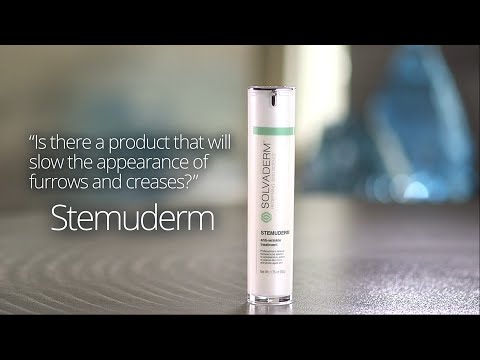 Revolutionizing
Cosmetic Dermatology
Discover Solvaderm's Professional Strength Products For Healthier And More Beautiful Skin.
About Stemuderm
Stemuderm is an anti-wrinkle cream formulated with powerful peptides and healing growth enzymes. This potent combination helps skin recover more effectively from the damage that can lead to wrinkles, age spots, sagging skin and other visible signs of aging. An infusion of natural oils replenishes diminished moisture levels while antioxidants protect from harmful free radicals.
With Every Order You'll Receive:
1 bottle of Stemuderm
Our exclusive 60-day satisfaction guarantee
Free shipping for U.S. domestic orders
A low retail price of $79.99
Usage
Before applying Stemuderm, cleanse and tone the skin. Apply the product to the entire facial area, and neck and chest if needed, massaging in until fully absorbed.
Ingredients
Malus Domestica Fruit Cell Culture: derived from a rare Swiss apple and clinically demonstrated to facilitate skin healing and repair, decreasing wrinkle depth and improving tone.
Acetyl Hexapeptide-8: helps inhibit muscle contractions that, over time, lead to the formation of lines and wrinkles.
Dipeptide Diaminobutyroyl Benzylamide Diacetate: better known as the proprietary ingredient, SYN-AKE, this ingredient relaxes facial muscles for a smoother, younger-looking appearance.
Acetyl Glutamyl Heptapeptide-1: reduces muscle contractions so skin remains free from lines, wrinkles and facial creases.
Palmitoyl Oligopeptide: improves the quality of collagen fibers, strengthening the skin matrix for optimal elasticity and firmness.
Pentapeptide-3 & Palmitoyl Tetrapeptide-7 (Matrixyl 3000): enhances your skin's production of hyaluronic acid and elastin fibers for a youthful plumpness and smoother texture.
Jojoba Seed Oil: moisturizes and conditions dry skin while improving the ability of the formula to penetrate deep below the surface.
Apricot Kernel Oil: alleviates irritation, reduces inflammation and improves overall suppleness.
Squalane: derived from olives, this fast absorbing moisturizer leaves the skin softer, smoother and silky to the touch.
Hyaluronic Acid: promotes optimal hydration and a youthful plumpness by attracting water molecules from the atmosphere then locking them in the skin for long-lasting results.
Benefits
It smooths and softens the appearance of fine lines and wrinkles
Speeds the healing process, reducing existing damage and protecting from further harm
Inhibits facial muscle contractions to relax expression lines and prevent wrinkle development
Improves the health and longevity of the skin cells for a long-lasting youthfulness
Ensures skin is kept fully hydrated, eliminating dryness and rough, flaky patches
The FDA has not evaluated these statements and this product is not intended to cure or prevent any specific skin condition. Remember to read our labels and ingredient lists carefully and always follow the directions for application. If you have a history of skin allergies, a skin patch test is recommended before use. Avoid ingredients that are known to trigger an allergic reaction and discontinue use immediately should a reaction occur.