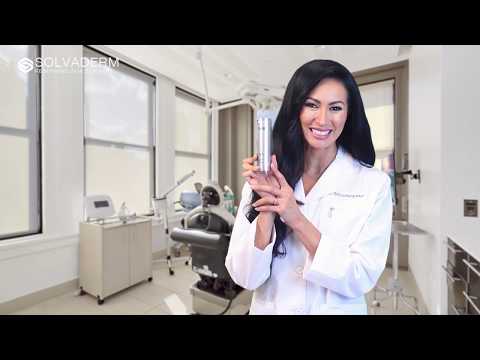 Revolutionizing
Cosmetic Dermatology
Discover Solvaderm's Professional Strength Products For Healthier And More Beautiful Skin.
Innovative and technologically advanced, Replexagen provides unparalleled anti-aging results for damaged, mature skin. Combining potent, clinically proven peptides and five growth factors that are identical in molecular structure to those in the human placenta, the fast-acting Replexagen formula is highly effective in reversing skin damage caused by external elements and the natural aging process. When applied on a regular basis, Replexagen fortifies the skin structure, improving resiliency and offering ongoing anti-aging protection; by supporting the production of the essential protein collagen, delicate, vulnerable skin tissue receives optimal nourishment, resulting in a firmer, wrinkle-free, fully revitalized complexion. In clinical testing, Replexagen's pharmaceutical-strength key ingredients boosted levels of moisture in the skin by 83% with a single application; after 4 weeks of use, there was a 21% improvement in signs of aging around the eyes. Rich in potent antioxidants that provide ongoing cellular protection against destructive free radicals, Replexagen produces skin that is soft, smooth and glowing with health at any age.
Replexagen Usage
Replexagen should be applied to freshly cleansed and toned skin, massaging gently in circular motions using the fingertips. The serum can be used twice daily, incorporating it into the morning and evening skincare routine, and works optimally with Solvaderm's Dermpura Skin Balancing Cleanser and Maxatone Clarifying Biohydrating Toner. All areas of the facial skin benefit from the professional strength Replexagen formula, particularly those affected by repetitive muscle movements such as the forehead and around the eyes and mouth.
Replexagen Ingredients
Biomimetic Peptides: Biomimetic Peptides play a vital role in the cutting-edge Replexagen formula and have multiple benefits for damaged, fragile, mature skin. In addition to accelerating skin cell regeneration, circulation and the production of essential protein fibers, Biomimetic Peptides support the action of five growth factors -
Insulin-like Growth Factor (IGF): Reduces wrinkles particularly in the delicate skin around the eyes and promotes the synthesis of collagen for an improvement in structural strength
Epidermal Growth Factor (EGF): Promotes healing and activates cell-signaling, stimulating growth in both the dermal and epidermal layers
Acidic Fibroblast Growth Factor (AFGF): Helps to repair damaged tissue, promotes the regeneration of blood vessels and increases elasticity, resulting in firm, smooth skin with fewer visible signs of aging
Vaso-Endothelial Growth Factor (VEGF): Ensures mature skin cells receive adequate nutrition and optimizes the supply of oxygen, boosting overall health and radiance
Basic Fibroblast Growth Factor (BFGF): Supports the healing process and reduces the severity of blemishes, scarring and other skin discoloration
Neuropeptides
While many of the key active ingredients contained in Replexagen work to heal and repair existing skin damage, potent Neuropeptides stop it before it even starts. Small, protein-like molecules, Neuropeptides offer a safe, natural alternative to cosmetic injections by blocking the function of neurotransmitters and, in doing so, inhibiting repetitive muscle movements. The immediate result of this action is skin that appears relaxed, smooth and revived; over time, this limited movement reduces the development of expression lines and hard to treat, deep-set wrinkles. In addition to these powerful anti-aging effects, Neuropeptides are also known to delay age-related collagen breakdown, eliminating looseness and sagging so skin remains firm and lifted.
Oligo Elements
Oligo Elements are trace minerals that are vital for numerous functions throughout the body, including a reduction in the skin aging process. Not only do they ensure the proper maintenance of essential enzyme reactions, they also boost the action of antioxidants, neutralizing the free radicals that attack and damage skin cells and protecting them from further harm. With a proven ability to stimulate the production of collagen, Oligo Elements contribute to a firmer, smoother texture and a fullness synonymous with young skin.
Benefits
When used daily, Replexagen will:
Improve the action of antioxidants for increased protection against cell-destroying free radicals
Strengthen skin structure and density, fortifying the connective tissue and improving resistance to age-related and environmental damage
Regenerate blood vessels and boost the circulation for clarified skin that is visibly brighter and more radiant
Drastically increase moisture levels immediately upon application, reducing areas of dry, rough skin that are susceptible to premature aging
Support overall skin function, accelerate healing and provide nutrients essential for slowing the natural aging process
Reduce the appearance of discoloration, blemishes and scarring on the skin surface for a clear, evenly toned texture
Inhibit repetitive movement in the facial muscles to slow the development of expression lines, contributing to a refreshed, relaxed appearance
The FDA has not evaluated these statements and this product is not intended to cure or prevent any specific skin condition. Remember to read our labels and ingredient lists carefully and always follow the directions for application. If you have a history of skin allergies, a skin patch test is recommended before use. Avoid ingredients that are known to trigger an allergic reaction and discontinue use immediately should a reaction occur.