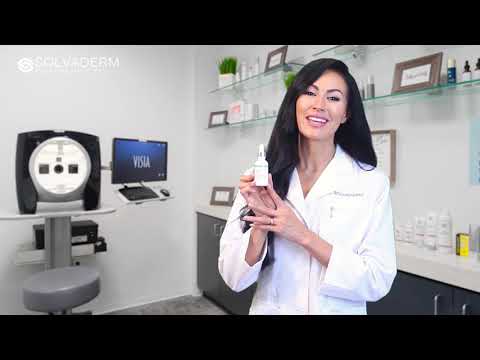 Revolutionizing
Cosmetic Dermatology
Discover Solvaderm's Professional Strength Products For Healthier And More Beautiful Skin.
Plasmatox is a revolutionary skincare treatment with a deeply conditioning, oxygen-rich anti-aging formula. Our skin, just like every living entity, relies on oxygen to keep it in an optimal state of health - when levels of oxygen decline, the result is a tired-looking, dull complexion that is more vulnerable to becoming prematurely aged. Perfluorodecalin, the powerful key active ingredient in Plasmatox, contains nourishing plasma that delivers vital oxygen where it's needed most, penetrating deep below the skin surface. Delicate, damaged skin cells become fortified, revitalized and more resistant to the harm caused by daily environmental stressors such as toxins, pollutants and UV rays. With a lightweight texture that absorbs quickly and leaves no greasy residue, Plasmatox provides ongoing, maximum strength protection against the most common signs of aging including fine lines, wrinkles, discoloration and chronic dryness. Using Plasmatox on a regular basis will visibly improve the appearance of the skin, giving it a youthful radiance that is evenly toned, fully hydrated and beautifully smooth.
Usage
After cleansing and toning, apply Plasmatox to the skin using the fingertips. Gently massage the serum into the face, neck and chest and, for complete saturation, repeat the application after allowing to fully dry. Plasmatox is best used twice a day, as part of the morning and evening skincare routine, and works optimally in conjunction with Dermpura Skin Balancing Cleanser and Maxatone Clarifying Biohydrating Toner.
Plasmatox Oxygen Plasma Serum should be used on skin that appears lined, dull and discolored including the face, neck and chest areas.
Ingredients
Plasmatox contains the powerful, scientifically proven key active ingredient, Perfluorodecalin. A high-density liquid fluorocarbon, Perfluorodecalin has a history of use in the field of medicine because of its effectiveness in transporting high volumes of oxygen molecules. It is this very same action that makes it such a valuable anti-aging ingredient and the reason why, after conducting extensive research and clinical trials, we knew we had to include it in our innovative Plasmatox formula. Perfluorodecalin safely delivers concentrated molecules of oxygen to vulnerable areas of the skin that need them most and, in doing so, produces superior anti-aging results. By slowing skin deterioration and restoring essential levels of elastin, keratin and collagen, the skin matrix is strengthened, creating a firmer, more elastic texture that is free from sagging, creases and deep-set wrinkles. Additionally, skin becomes optimally aerated and is completely protected against the pollutants and environmental stressors that damage cells and lead to premature aging. With an ability to enhance the circulation and boost the absorption of other key active ingredients, Perfluorodecalin is vital in delaying the skin aging process and supporting its long-term health.
Benefits
Plasmatox has a drastic effect on multiple signs of aging, largely due to the inclusion of Perfluorodecalin, an ingredient with a unique ability to transport large amounts of oxygen molecules to areas where they're needed the most. Some of the powerful benefits of Plasmatox include:
Reducing the build-up of carbon dioxide in the skin and accelerating the detoxification process for a healthier, more clarified complexion
Dissolving quickly below the skin surface, optimizing the diffusion of oxygen molecules so they can reach even the most distant capillaries and enhance circulation in these areas
Keeping the skin fully aerated for an improvement in cell propagation and the natural healing process
Supporting the skin's anti-inflammatory response and strengthening the epidermal barrier, protecting against bacteria, loss of moisture and damaging UV radiation
Stimulating the production of collagen, keratin and elastin, skin-strengthening proteins that encourage firmness, elasticity and a smoother texture
Promoting the optimal absorption of all key ingredients and boosting their effectiveness for accelerated anti-aging results
Sinking into the skin easily, with a non-greasy formula that won't clog pores or leave an oily surface residue
The FDA has not evaluated these statements and this product is not intended to cure or prevent any specific skin condition. Remember to read our labels and ingredient lists carefully and always follow the directions for application. If you have a history of skin allergies, a skin patch test is recommended before use. Avoid ingredients that are known to trigger an allergic reaction and discontinue use immediately should a reaction occur.