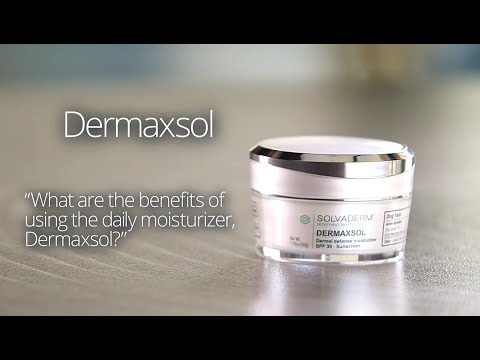 Revolutionizing
Cosmetic Dermatology
Discover Solvaderm's Professional Strength Products For Healthier And More Beautiful Skin.
Dermaxsol is a daily, facial moisturizer that provides all-day hydration to your skin, keeping it moist, velvety soft, and well-protected. With a broad-spectrum Sun Protection Factor of 30, this face cream provides peak protection from the sun's harmful UVA rays, making it less likely that you will experience sunburn or photo-aging. A sheer, waterproof formula, it absorbs quickly into your skin and creates a long-lasting, protecting barrier that leaves your skin looking, and feeling, soft and smooth. Safe for all skin types, Dermaxsol will not cause redness or irritation.
Usage
Dermaxsol should be applied every morning after cleansing and toning the skin. Allow it to absorb completely into the skin before applying make-up or other skincare products.
Ingredients
Zinc Oxide: provides powerful protection from sun damage by safely blocking and neutralizing deep penetrating UVA and surface burning UVB rays.
Glycerin: helps attract and retain moisture to reduce dry, flaky skin. Glycerin also forms a barrier to reduce moisture loss throughout the day.
Beeswax: a powerful humectant that helps soften dry skin while sealing in hydration without clogging pores. High in Vitamin A, it also helps speed healing and slow the aging process.
Benefits
Helps maintain ideal skin moisture levels throughout the day
It creates a non-greasy moisture barrier, locking in hydration and protecting skin from pollutants, toxins and bacteria
Provides broad spectrum SPF30 protection
Absorbs quickly, helping to prep the skin for make-up application
Has a hypoallergenic formula that is suitable for all skin types
The FDA has not evaluated these statements and this product is not intended to cure or prevent any specific skin condition. Remember to read our labels and ingredient lists carefully and always follow the directions for application. If you have a history of skin allergies, a skin patch test is recommended before use. Avoid ingredients that are known to trigger an allergic reaction and discontinue use immediately should a reaction occur.