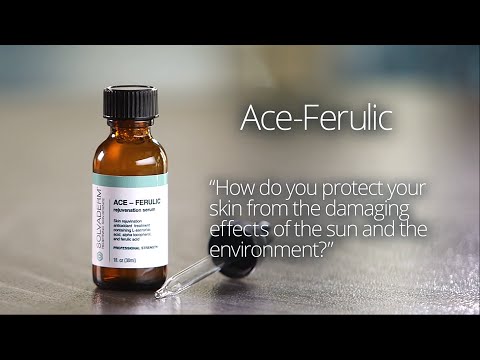 Revolutionizing
Cosmetic Dermatology
Discover Solvaderm's Professional Strength Products For Healthier And More Beautiful Skin.
About ACE-Ferulic
Solvaderm's ACE-Ferulic is a skin serum intended to heal and rejuvenate damaged skin. This product works in multiple ways, correcting damage that's already occurred while boosting antioxidant levels to protect from further harm. With a blend of ingredients that includes vitamins C, E and B3, Hyaluronic Acid and Ferulic Acid, the lightweight serum provides complete nourishment and hydration, leaving the skin plump, smooth and evenly textured.
With every order you'll receive:
1 bottle of ACE-Ferulic
Our exclusive 60-day satisfaction guarantee
Free shipping for U.S. domestic orders
A low retail price of $109.00
Usage
ACE-Ferulic should be used after cleansing and toning. Apply a small amount to the face, neck and chest area, waiting for it to be fully absorbed before using any other product. For best results, use ACE-Ferulic twice a day as part of the morning and evening skincare routine.
Ingredients
Ferulic Acid: a powerful antioxidant that penetrates the skin, eliminating destructive free radicals and increasing skin cell health and longevity.
Ascorbic Acid (Vitamin C): provides antioxidant protection and helps to reduce areas of hyperpigmentation for a brighter complexion.
Alpha Tocopherol (Vitamin E): fights free radicals and enhances the effects of Vitamin C. Vitamin E is also a potent moisturizer and helps to bolster the skin's protective barrier.
Niacinamide (Vitamin B3): improves micro-circulation, enhances skin protein synthesis, and lightens areas of discoloration.
Panthenol (Vitamin B5): conditions the skin, locking in moisture to eliminate any dry, rough patches.
Hyaluronic Acid: significantly boosts hydration levels, causing skin to appear full, plump and smooth.
Benefits
Lightweight, easily absorbed and suitable for all skin types
Strengthens the skin's protective barrier to lock in moisture
Increases antioxidant levels for protection against free radical damage
Provides intense hydration to eliminate dryness and keep skin plump and smooth
Supports healing and repair mechanisms that help slow the onset of common signs of aging
Fades hyperpigmentation for a more evenly toned complexion
The FDA has not evaluated these statements and this product is not intended to cure or prevent any specific skin condition. Remember to read our labels and ingredient lists carefully and always follow the directions for application. If you have a history of skin allergies, a skin patch test is recommended before use. Avoid ingredients that are known to trigger an allergic reaction and discontinue use immediately should a reaction occur.